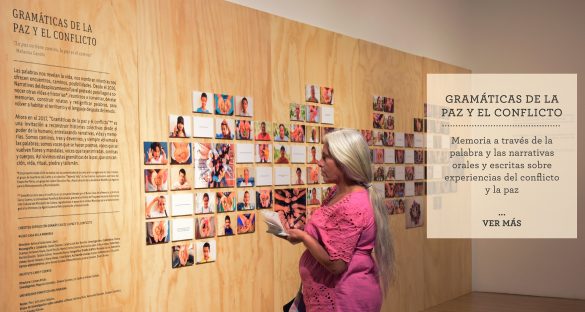 About
this project
We present the results of Grammars for Peace and Conflict, a project led by Museo Casa de la Memoria, Instituto Caro y Cuervo and Universidad Pontificia Bolivariana, thanks to the incentive by the National Program for Cultural Cooperation of the Ministry of Culture.
This project is a continuation of Narratives of Displacement, carried out in 2016 with the communities of La Loma, in the district of San Cristobal:, the huerteros del Cañón group and the "Tejiendo Vida" collective from San Gabriel. Women writers of the Grupo Ave Fenix; and the Educational Center for Peace and Reconciliation group of the Medellin administration and the Agency for Reinstatement and Normalization.
Words reveal life to us, they give us names while they offer dialogs, roads, possibilities. Since 2016, Narratives of Displacement was the pretext to get to know different lives and stories, to meet and talk, to uncover memories, stories and to give new meaning to words, to inhabit the territory and the language again, after the fear.
Grammars for Peace and Conflict is an invitation to reconstruct collective history from the power of that which is human, interweaving narratives, lives and memories. We are roads, goings and becomings, and we always come back to words; we are voices that create poetry, voices that become flowers and mandalas, voices that weave glances, smiles and bodies. This is how we live these grammars, which are song, life, ritual, stone and talisman.