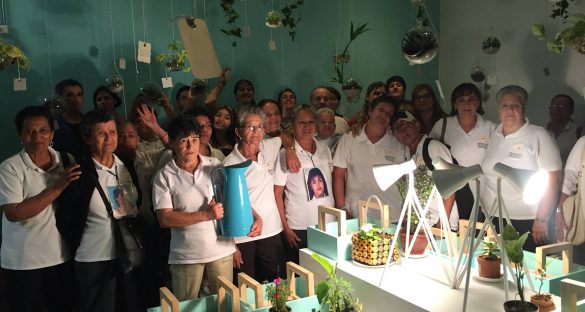 Collective
memory territories
A Living File: Collective memory territories, is an initiative of Universidad de Antioquia research group focus on the topics of society knowledge, files and memories. The investigation comes in the review of the documentary acquis, and the approach with the mothers that conforms an association known in Spanish as "Asociación Caminos de Esperanza Madres de La Candelaria". The project sponsored by House of Memory Museum offers an exhibition and a travelling sample toward the recovery of memory from armed conflict in Colombia, implemented on a methodology based on files construction that involves the exhibit visitors, and works as a model for other organizations to understand the documents, objects and memories value.
The association "Asociación Caminos de Esperanza Madres de La Candelaria" trajectory is linked to Colombia´s conflict armed history, at least in the las two decades. In 1999, the civil war in the country was worse, after almost a decade after the new constitution in 1991 was issued, and its promises had vanished. The hoped for a social rule of law was a chimera for Colombians, ending XX century, especially for those who experienced violence in their very flesh.
According with the historic memory research group, between 1996 and 2002, "the armed conflict reached its most critical level, by a further military strengthening of guerrillas, national expansion of paramilitary groups, the state crisis, economic crisis, narco-trafficking readjustment in which new coordinates were assigned by the conflict armed" (Grupo de Memoria Histórica – GMH, 2010, p 33).
At this period of upsurge in violence, paradoxically, it was an urgent moment for social movements such as "Madres de la Candelaria" (Candelaria Mothers), association founded on March 1999. It´s appearance, is what Cesar Vergara referred as the "World´s cartography of union, adhesions and sympathies" (2006, p. 171) which has had as a main source of inspiration the battles initiated by "Madres de la Plaza de Mayo" in Argentina, in the 70´s and persist until today, with a renewed speech subjected to the demands of the present.